Spending a quality time with your friend and family on your back patio is one of the best experience you can ever have. The experience can be made better by eating delicious food. For this, an outdoor kitchen will surely bring the joy of cooking to your backyard along with other benefits.
You can go for various other options that include ultra-modern kitchen space and rustic outdoor kitchen with a wood-fired oven. Confused in selecting the best design for your kitchen? You can get in touch with the White Wood Kitchens to get Cape Cod kitchen renovation services from skilled workers.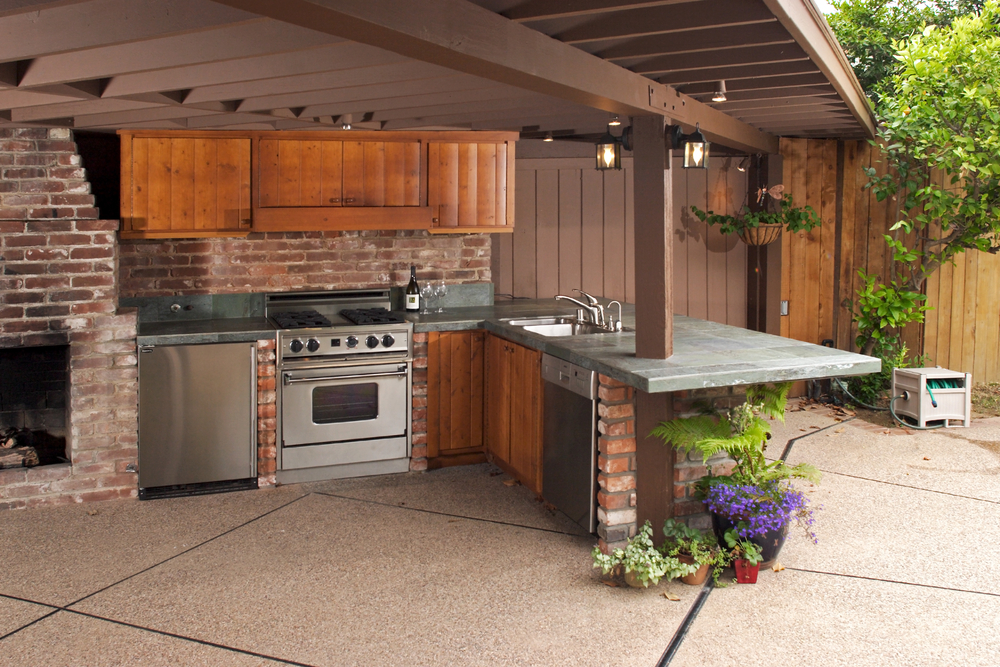 There are many innovative options that you can add to creatively design your outdoor kitchen. Wondering what benefits you will after having an outdoor kitchen? The following blog will surely give all the answers to your questions:

1-Extra Living Space
When making an addition in your home, it is surely a commitment that needs time, money, and resources. But an outdoor kitchen will provide you a space you need without investing a lot. The outdoor kitchen will provide a space for your family to gather and eat together. To make your outdoor kitchen more attractive, you can get in touch with kitchen renovation company.

2-Great Home Atmosphere
When cooking inside the kitchen, you might burn your roast or spill the ingredients on the floor. Inside your home, you will have a cluttered environment. On the other hand, when food is cooked and prepared outside, you will get rid of the hassle and mess that you experience when cooking inside.

3-Area for Entertaining
What can be better spending the summer day by having BBQ in the backyard? If you are planning to throw party for your friend or family, then an outdoor kitchen will let you eat and enjoy. You can spend quality time outside.

4-Enhance Property Value
When you make an improvement in your property, this is definitely done to enhance the value of a property. Adding an outdoor kitchen in your backyard that contains cabinets, appliances, stand-out fixtures will give style and value to your home. Moreover, it will also attract buyers when you will be selling your home. Add more value to your house by making your kitchen attractive. You can achieve this by availing the complete kitchen renovation service from an experienced company.
5-Save Money on Energy Bills
When cooking and using appliances you turn on AC to cool down your home surrounding in summer. This will result in more energy bills but with an outdoor kitchen, this problem can be resolved. You can cook in your outdoor kitchen to minimize your energy bills because your house will not heat up to turn on the air conditioning when cooking or grilling.
6-Save Money in Your Pocket
Most of the people try to go out to a restaurant for eating but when you have an outdoor kitchen you can prepare your meals at home and enjoy eating outside the house with your friend and family. This will save your money just like the case of saving money on energy bills.
Hope these benefits will help you to make the final decision. Wondering how to plan a kitchen remodel? No need to worry, you can contact a professional company like White Wood Kitchens operating from Cape Cod and hire only skilled kitchen designers. They will design your outdoor kitchen right according to latest trends. You can also avail the services regarding kitchen remodeling, bathroom remodeling island and countertop installation, storage solution, and whole house management from them in affordable budget.

Contact Info:
White Wood Kitchens, Award Winning Kitchen Bath Remodeling, Cape Cod

Address: 160 MA-6A, Sandwich, MA 02563, USA

Hours:

Monday 8am - 5pm
Tuesday 8am -5pm

Wednesday 8am -5pm

Thursday 8am -5pm

Friday 8am -5pm
Saturday Closed
Sunday Closed
Phone: +1 508-353-9183

Email: mike@whitewoodkitchen.com